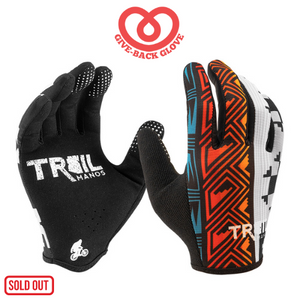 Our Tribute / Two Grey Hills glove is our second OXDX Clothing Collaboration glove. "The pattern you might recognize as the design I created in tribute of my late nalí and masaní, based off the rugs they wove throughout their lifetimes." - OXDX
Throughout the year we partner with various organizations to give back to either their cause, or a nonprofit that they are passionate about. We do this through sales from our Give-Back Glove collection.
We've created the perfect riding glove for the everyday condition. Total comfort. Ruggedly durable. Ultimate breathability. And tested here in the desert of Phoenix, Arizona where we have highs of 120 degrees, and lows of 40 degrees.
Four way stretch mesh on top of the hand conforming to your hand
Velcro-free
Sweat cloth thumb for wiping away dirt and sweat
Synthetic leather palm with silicone graphics on the palm for extra grip
Padding free design with ventilation holes in the palm for breathability