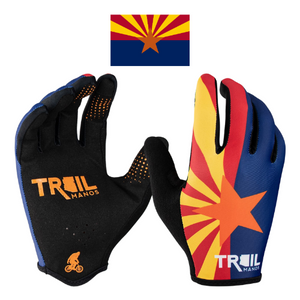 Arizona, the Grand Canyon state, achieved statehood on February 14, 1912, the last of the 48 coterminous United States to be admitted to the union.
Our 1912 glove is our marquee glove that represents our home base, the trails we love and ride daily, and the home of Trail Manos. 

We've created the perfect riding glove for the everyday condition. Total comfort. Ruggedly durable. Ultimate breathability. And tested here in the desert of Phoenix, Arizona where we have highs of 120 degrees, and lows of 30 degrees.